Imagine a Diamond that's like the brightest star in the sky. A diamond that reveals the perfect combination of brilliance, sparkle and dancing light. The Star 129 Diamond has 129 superbly-cut facets, illuminated at every angle. Previously, even the finest of cuts had only 58 facets. The Star 129 Diamond has a radiant difference you can see immediately.
Enchanting the eye…Delighting the senses in a Celebration of Pure Brilliance. Let us show you the Star 129 difference at Diamond Outlet. Then you'll know you really can find perfection…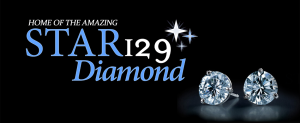 GUARANTEES: All Star129 solitaires are guaranteed to be graded VH+ for scintillation on the Gemex light performance certificate. All Star129 diamonds are guaranteed to be purchased back at 70% of the purchase price provided the stone is in salable condition.
Click here to view Star 129 website
Click here to connect with Star 129 on FaceBook
Click here to connect with Star 129 on Pinterest